Understanding Arc Flash PPE Categories
Whether to wear arc-rated personal protection equipment (PPE) is not a personal decision. The U.S. Occupational Safety and Health Administration (OSHA) directs employers to supply PPE and for employees to wear the supplied PPE if hazards exist. An arc flash risk assessment can indicate whether such PPE is needed. The analysis also needs to be documented.
PPE is a combination of protective clothing, helmets, goggles, or other garments or equipment to protect eyes, head, breathing, and the full body from splashes, vapors, loose objects, and chemical penetration through personal clothing. The level of protection depends on the level of exposure in the working environment.
Personal Protective Equipment categories
The National Fire Protection Association (NFPA) uses four Arc Flash PPE Categories to classify ranges of arc flash hazards, and the corresponding requirements for PPE. The categories are one of the methods used in the current NFPA 70E standard to inform workers about the protection they need while working on energized equipment. CSA Z462 recently added an Arc Flash PPE Category 5 for equipment with potential incident energy levels up to 75 cal/cm2.
Each category includes a minimum arc rating value for the required PPE. This value is determined by the PPE manufacturer, and indicates the protection provided by the equipment (in cal/cm2) as the point where a worker would have a 50% probability of receiving a 2nd degree skin burn.
Always abide by the limits of use and minimum working distance. The following PPE categories are described by the National Fire Protection Association (NFPA) Standard 70E. The greater the electrical hazard, the higher the personal protective equipment arc rating must be to withstand an arc-flash incident. Please note that the following chart is a summary only. For a complete list of NFPA standards see NFPA 70E Table 130.7( C)(16)
Overview of Electrical Safety Standards
Overview
Oberon is an ISO 9001 accredited manufacturing facility and is actively involved in the ASTM and ANSI Standards development process as participating members on several technical committees. All of Oberon's products have been manufactured in accordance with every applicable Standard. Not only does Oberon help write these Standards, we lead by example in our research, product development, laboratory testing and manufacturing processes.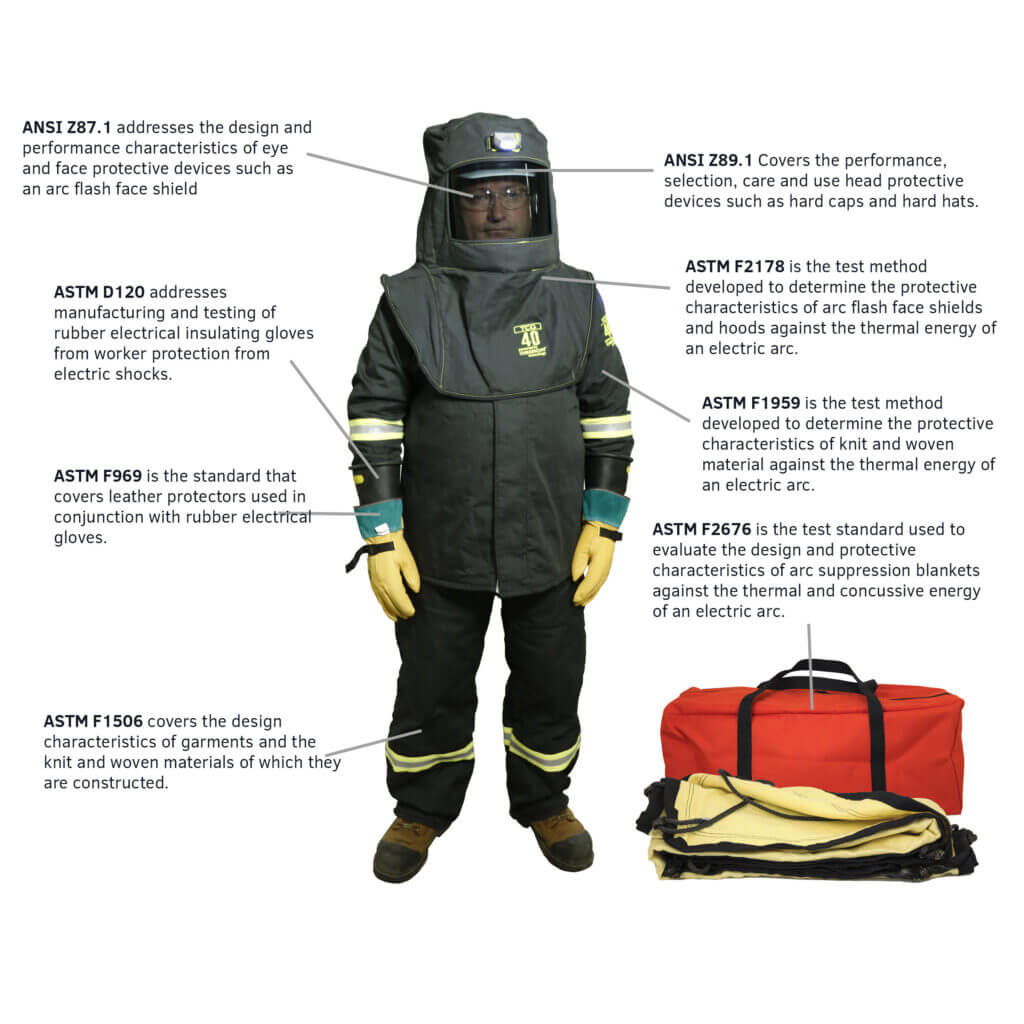 NFPA 70E and CSA Z462 Standards
The National Fire Protection Association and the Canadian Standards Association address the required elements of corporate electrical safety program, including training, engineering controls, work methods, and ultimately the personal protective apparel as the last line of defense for worker safety.
European Standards
The European Economic Area or EAA has standards for health, safety, and environmental protection.  All products sold into the EAA must meet these standards and should be CE marked by the manufacturer to signify these European Standards are met.
ANSI Standards
The American National Standards Institute oversees the development of voluntary consensus standards for products, services, processes, systems, and personnel.
ASTM Standards
The American Society of Testing and Materials (ASTM) F18 Committee has developed standards covering the manufacturing, testing, care and use of arc ash PPE. Oberon's products have been certified using the most current version of every applicable ASTM testing standard and are in compliance with the overarching performance standard, ASTM F1506.
Oberon is Accredited ISO 9001
Oberon™ is proud to be an accredited ISO 9001 manufacturing facility.  This requirement is part of an overall quality management system where a third-party certification body provides independent confirmation of an organizations ability to meet the requirements of ISO 9001.
This standard deals with the fundamentals of quality management systems, including the seven quality management principles upon which the family of standards is based.  These include principles such as strong customer focus, the motivation and implication of top management, the process approach, and continual improvement.
ISO 9001 deals specifically with the requirements that organizations wishing to meet these standards must fulfill.
ASTM F1506 Standards
When it comes to labeling Arc Flash PPE it is important to refer to
ASTM F1506
 Standards.
Even after assessing the hazard risks and selecting the appropriate Arc Flash PPE, it still falls on the employer to ensure that each garment truly matches the hazard it's designed to protect against. That's why it's especially important to identify proper labeling on the part of the manufacturer as an indicator that the garment is fully compliant.
According to ASTM F1506, arc flash garments must be labeled with the following information:
6.4.1  Meets requirements of Performance Specification F1506,
6.4.2  Manufacturer's name,
6.4.3  Fabric identifier,
6.4.4  Garment Tracking and Identification Code:
6.4.5  Size and other associated standard labeling,
6.4.6  Care instructions and fiber content, and
6.4.7  Arc rating (ATPV) or arc rating (EBT).
In the most recent version of NFPA 70E the labeling requirements for PPE is also mentioned and is as follows:
(c) Marking. All suppliers or manufacturers of PPE shall provide the following information on the personal protective equipment, on the smallest unit container, or contained within the manufacturer's instructions:
Name of manufacturer.
Product performance standards to which the product conforms.
Arc rating where appropriate for the equipment.
One or more identifiers such as model, serial number, lotnumber, or traceability code.
Care instructions.
There is a lot of redundancy between the two standards and so it is easy to incorporate both standards into one label.  It is an important practice to make a habit of reading your labels to better protect yourself and your crew from any potential electrical safety hazards.
NFPA 70E Conformity Standards
When it comes to labeling Arc Flash PPE it is important to refer to
ASTM F1506
 Standards.
Oberon Company is proud to be an accredited ISO 9001 manufacturing facility. Recent changes to NFPA 70E and CSA Z462 have created new conformity standards for Arc Flash PPE. There are 3 levels of conformity standards which are listed below.
Self-declaration with a Supplier's Declaration of Conformity.
Self-declaration under a registered quality management system and product testing by an accredited laboratory and a Supplier's Declaration of Conformity.
Certification by an accredited independent third-party certification organization.
Since Oberon is an ISO 9001 accredited facility all of our products meet or exceed Conformity Level 2 standards. A current Declaration of Conformity can be obtained for any Oberon Arc Flash products by clicking the following Level 2 Conformity.
Additionally, it is important to note that NFPA 70E also now references an ANSI/ISEA 125 standard as an informational note to the new conformity standards. The note reads as follows:
Informational Note: Examples of a process for conformity assess

ment to an appropriate product standard can be found in ANSI/ISEA 125,

American National Standard for Conformity Assess

ment of Safety and Personal Protective Equipment

. See Informative Annex H.4. 
The reference to this ANSI standard is of particular importance as this standard requires testing of all products at an interval not longer than every five years. This requirement is part of an overall quality management system and is mandatory no matter what level of conformity the manufacturer is trying to achieve. Please contact your local Oberon sales representative for further information.