Oberon™ Wins 2023 Canadian Occupational Safety Reader's Choice Award for Flame-Resistant Clothing
Zac Twight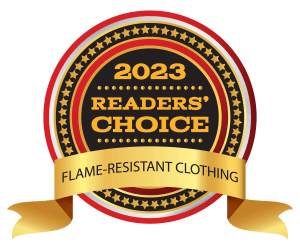 In an achievement that underscores our commitment to excellence and innovation, Oberon has proudly secured the 2023 Canadian Occupational Safety Reader's Choice Award for Flame-Resistant Clothing. This accolade not only highlights our dedication to providing top-tier safety solutions but also signifies a major stride in elevating workplace safety standards across Canada. This victory holds far-reaching implications for both Oberon and our clients, reaffirming our position as an industry leader.
A Testament to Dedication and Innovation
The Canadian Occupational Safety Reader's Choice Award is a coveted recognition that acknowledges companies at the forefront of delivering exceptional products and services in the occupational safety sector. Oberon's win in the Flame-Resistant Clothing category echoes our unwavering dedication to crafting cutting-edge solutions that not only meet but exceed industry standards. This victory is a testament to the meticulous research, innovation, and quality assurance that go into each product developed by Oberon.
Elevating Workplace Safety Standards
Flame-resistant clothing plays a pivotal role in safeguarding workers who operate in hazardous environments, such as those exposed to flash fires or energized electrical risks like arc flash. By clinching this award, Oberon solidifies our role as a key contributor in enhancing workplace safety standards. Our flame-resistant clothing offerings are designed to provide not only optimal protection but also comfort and practicality. Our commitment to delivering products that effectively shield workers from potential hazards while ensuring their comfort is a cornerstone of our brand's ethos.
What This Means for Our Clients
Oberon's triumph holds significant implications for our clients, spanning various industries. With the recognition of our flame-resistant clothing as a top-tier choice, clients can rest assured that they are investing in products that meet the highest standards of safety. The award-winning line of clothing showcases Oberon's relentless pursuit of excellence, translating into increased confidence for clients who rely on their products to safeguard their workforce.
Moreover, the recognition shines a spotlight on Oberon's commitment to research and development, highlighting our ability to adapt to evolving safety requirements and emerging technologies. For clients, this translates to access to state-of-the-art flame-resistant clothing that incorporates the latest advancements, further enhancing protection levels and overall job satisfaction.
A Continuation of Excellence
Oberon's victory in the Flame-Resistant Clothing category is not just a culmination of past efforts but also a stepping stone toward the future. As we continue to refine our products and explore new avenues in workplace safety, clients can anticipate a steady influx of innovative solutions that exceed their safety requirements and their expectations.
——
Oberon's success in securing the 2023 Canadian Occupational Safety Reader's Choice Award for Flame-Resistant Clothing is a triumph for Oberon, our clients, and the broader pursuit of workplace safety. This accolade reaffirms Oberon's status as an industry leader and serves as a testament to our dedication to innovation, excellence, and providing reliable safety solutions. As clients continue to place their trust in Oberon's offerings, they can be confident that they are investing in the very best in flame-resistant clothing, backed by an award-winning legacy of safety and quality.
About Oberon™
Oberon™, a SureWerx company, has been providing innovative personal protective equipment solutions since 1978. We've worked tirelessly to develop comprehensive offerings that meet and exceed industry standards and regulations to protect workers while performing common work tasks. We're not just a manufacturing company; we are an engineering company with a team of experts who strive every day to continuously improve our product lines. Our efforts have helped to raise the bar for all manufacturers in the industry today to ensure the highest level of worker safety and protection.